How to Bid WordPress Trackback and Pingback Spam Goodbye Without any Plugin
How to Bid WordPress Trackback and Pingback Spam Goodbye
Among WordPress features its ability to obtain and send pings or trackbacks from and to different websites. Whiles this feature is pretty cool and helpful for webmasters,it could also be tainted to create complications. Spammers who send Pingbacks and trackbacks to other site owners make use of automated scripts designed for this purpose. Among those tools istopsy – a social search tool used for trackback spam. And this is definitely a pain in the neck for many webmasters.
Spammers often have the guts to send unsolicited pings and trackbacks to webmasters because they are not monitored. They just end up leaving different links to their sites on yours. And what pains me more is 95% of these links transmits to unlawful activities like running scams advert, distributing malicious code, selling drugs to name a few.
Basically, trackback spam is not directed to your site personally, unlike the comment spam. However, that does not mean we should let them bug-down our site.
For all this, I am going to teach you in two steps how to bid WordPress trackback spam goodbye without using any plugin.
The first step
The first easiest and quickest way to deal with trackback spam is to turn it off in your WordPress admin panel. Just hover your mouse on Settings and navigate to Discussion page and under the default article settings remove the ticked from the box next to Allow link notifications from other blogs (pingbacks and trackbacks) .But this will only disable trackback and pingback spam on the articles you publish henceforth. This alone will suffice if your blog is new and that you don't have contents on it.
The image below can help you clarify the right checkbox to uncheck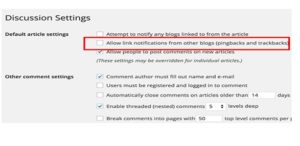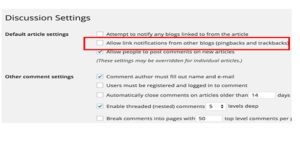 Like I said earlier, the first step will not affect your existing posts and that is why we badly need the second technique.Although the first step was as simple as ABC, it just takes few clicking of the mouse, nothing more.
The second step
This step will requires you running a MySQL query, so if you are not familiar with MySQL, I recommend you let an experience person do it for you to avoid messing up your entire site.
Here we go!
First, you need to login to your web host control panel and click on phpMyAdmin to locate your WordPress database. Most web host phpMyAdmin interface looks similar to the one below.


Click on your WordPress database name from the tree-view found on the left sidebar and then click on the SQL tab: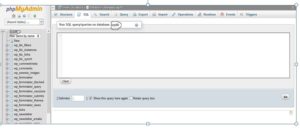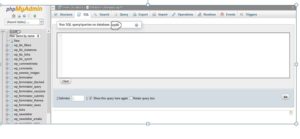 And execute the following query:
RENEW wp_posts SET ping_status= closed WHERE post status = publish AND post type = 'post';
The above query will disable trackbacks and pingbacks on your posts
RENEW wp posts SET ping status which should be =closed WHERE post status should be = publish AND post_type = page;
This second query will disable trackbacks and pingbacks on your pages
Viola! Now all of your already published WordPress posts will have trackbacks disabled as well.No more pains and headache from unsolicited trackbacks to your site.
If you liked this article, please comment or join our list of happy subscribers to never miss any post on this site.
Share this: